Black Friday Sale
Nov.12 ~ Dec.11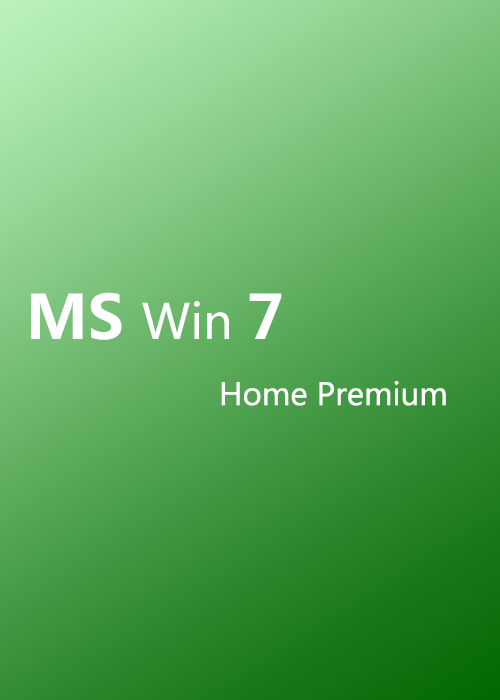 -45%
MS Win 7 Home Pre Premium KEY(32/64 Bit)
【Black Friday Sale】
Platform:

Stock:

Tags:

Region:

Delivery Time 3-5 minutes
Product Description
The key will be sent via eMail. Please check the spam or junk mail folder too.
About Win 7 Home Premium OEM (32/64 Bit):
Win 7 Home Premium makes it easy to create a home network and share all of your favorite photos, videos, and music. You can even watch, pause, rewind, and record TV (a broadcast TV tuner may be required). Get the best entertainment experience with Win 7 Home Premium. Do you use your PC for work, run Win XP programs, or require enhanced security? Consider Win 7 Professional.

Simplify your PC with new navigation features like Aero Shake, Jump Lists, and Snap. Customize Win to look and feel the way you like by changing themes and taskbar programs. Setting up a home network and connecting to printers and devices is easier than ever. Win 7 Home Premium supports the latest hardware and software.

Win 7 was designed to make your PC sleep and resume quicker and takes full advantage of 64-bit PC hardware and memory. Connecting to wireless networks is fast and easy. Manage lots of open programs, documents, and browser windows easily with thumbnail and full-screen previews of open windows. Open files and get around your PC faster with the improved taskbar. You can easily pin programs you use often to the taskbar and launch them in just one click.

With Win 7, setting up wireless connections is easier with consistent, one-click connections to available networks, whether those networks are based on Wi-Fi, mobile broadband, dial-up, or corporate VPN. Connect Win 7 PCs on a home network in just four clicks and easily get to the photos, music, and files on each one - even share printers - with HomeGroup.

Win 7 will help your PC sleep and resume more quickly. It is designed to respond to commands more quickly and will help your PC to be more reliable.
Features
Win 7 Home Premium (includes 32-bit & 64-bit versions) makes it easy to create a home network.
And share all of your favorite photos, videos, and music--you can even watch, pause, rewind, and record TV
Start programs faster and more easily, and quickly find the documents you use most often
Make your web experience faster, easier and safer than ever with Internet Explorer 8
Easily create a home network and connect your PCs to a printer with HomeGroup
Make the things you do every day easier with improved desktop navigation